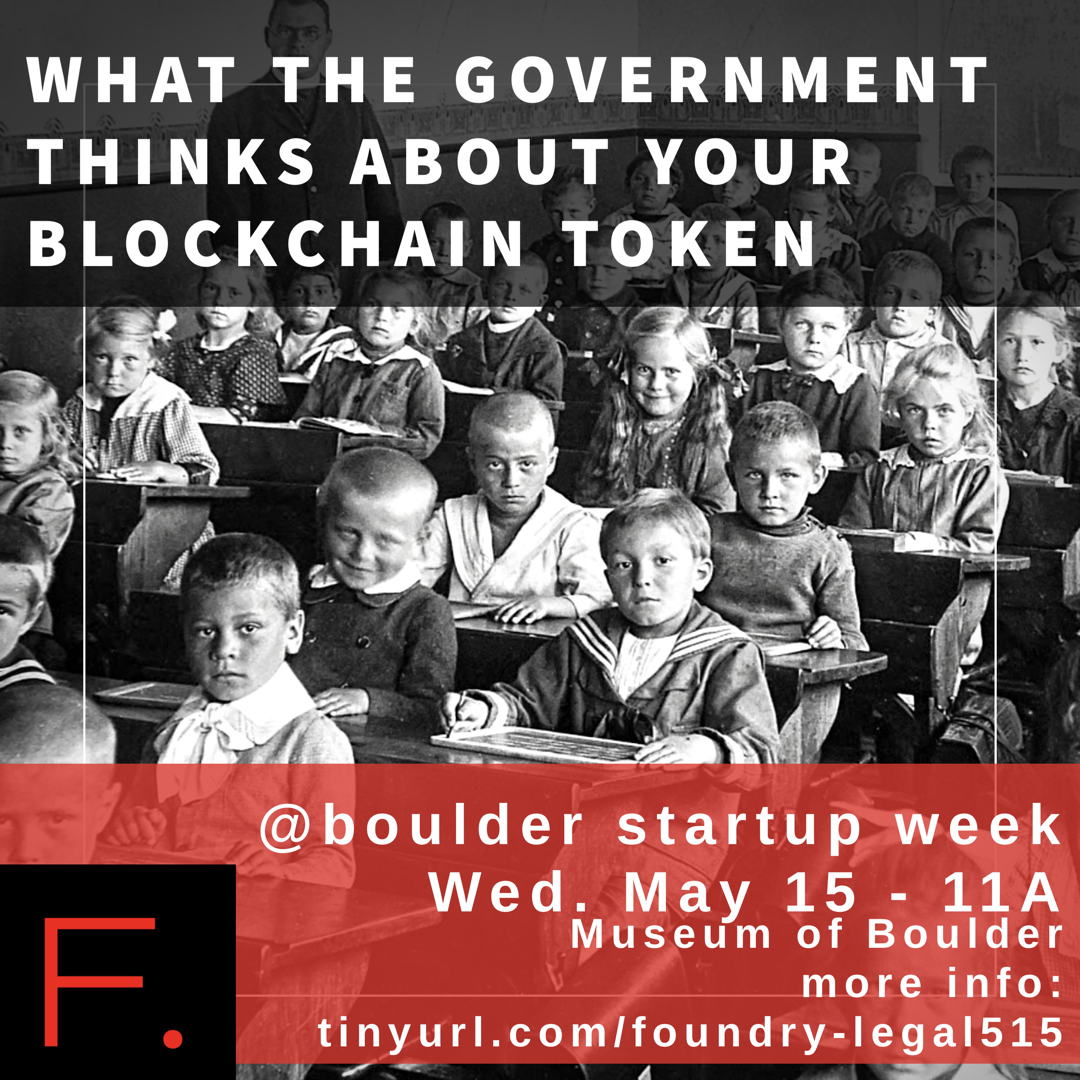 Boulder Startup Week 2019: What the Government Thinks about Your Blockchain Token
On Wednesday, May 15, 2019, Larkin Reynolds of Foundry Legal will moderate a discussion on blockchain regulation at the 10th Anniversary Boulder Startup Week. The discussion will explore the current state of blockchain regulation, specifically discussing how the government's approach to regulation has evolved and what to expect in the near future. The panel includes Michael D. Hoke, Senior Counsel, Division of Enforcement, U.S. Securities and Exchange Commission; Hetal J. Doshi, Assistant United States Attorney for the District of Colorado; Jeffrey S. Eaby, Chief Examiner, Colorado Division of Securities; Josh Finkleman, Managing Partner of BXE Capital; and Matthew McClintock, Founding Partner of Evergreen Legacy Planning LLP.
Boulder Startup Week (BSW) is an independent, free, five-day event that celebrates the unique startup community in Boulder, Colorado. The event is packed with over 200 events, 34 different tracks, speeches, lectures, panels, networking events, and more. BSW claims to be the original startup week and is celebrating 10 successful years.
Larkin Reynolds works with clients across a range of emerging industries, and is a pioneer in the blockchain regulatory space. Larkin represented the aerospace technology company that received the first "no-action" interpretive opinion regarding a proposed token issuance in the state of Colorado; that opinion was issued in February 2019.  Larkin also serves as outside general counsel to companies and individuals dealing with government investigations and subpoenas/inquiries, securities compliance, and data privacy laws and regulation.
Larkin is also adjunct faculty with the Daniels College of Business at Denver University, where she teaches classes on startup law and consumer protection law. She can be reached at lreynolds@foundry.legal.
Foundry Legal, LLC is a modern law practice serving clients across a range of emerging industries, particularly in areas of complex regulation such as government investigations and subpoenas/inquiries, exempt securities offerings, cannabis regulatory compliance, and data privacy regulation. The firm, which is celebrating its one-year anniversary during Boulder Startup Week, also counsels clients on nonprofit and social impact issues.